4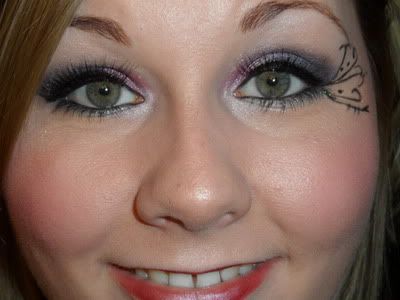 So 2012 is nearly apon us and I thought I would jump on the band wagon of creating a fun and bold makeup look for New Years Eve.
The New Years party season is probably the only time of year were people like to go all out with their hair and makeup and have a jolly good time!
Here is my New Years Eve makeup tutorial. I feel this look is very versatile and can be worn on any eye shape, eye colour and skin colour.
You don't have to use any of the same products or colours as me, you can totally mix this look up to however you want it to look for your special parties!
I added the added "twist" with a pretty fairy inspired detailing to the side of each eye, again this is totally personal preference and you can either create this look with or without the pattern.
I hope everyone has a fantastic time this New Years whatever your doing and I wish you all the best for 2012!
Products Used to create this look
Face
Makeup Academy Professional Primer
MAC Pro Longwear Foundation (NC20)
Bourjois Healthy Mix Concealer
Clinique Gentle Light Powder (03 Glow)
Eyebrows Urban Decay Naked Palette (Buck)
Physicians Formula Cashmere Wear Ultra-Smoothing Bronzer
Physicians Formula Happy Booster Glow & Mood Boosting Blush (Rose)
Physicians Formula Bronze Pearl
Sigma Extravaganza Face & Body Brush
Eyes
Too Faced Shadow Insurance
NYX Jumbo Pencil ( Purple)
WetNWild Spoilt Brat Palette
Bourjois Eyeshadow (Blanc)
MAC Khol Eyeliner (Smoulder)
Physicians Formula Gel Eyeliner Stack (Black)
Physicians Formula Organic Wear Mascara (Black)
No7 Lash 10 Natural Volume Lashes
The Body Shop Shimmery Eyeliner
Sigma E25
Sigma Precision Tapered P86
Sigma Precision Round P82
Sigma Eyeliner Brush E05
Real Techniques Accent Brush
Lips
Barbara Daily Lipliner (Rosehip)
Estee Lauder Pure Colour Lipstick (Pink Parfait)